Σύμη – Dodecanese
Symi is an extremely pretty island close to Rhodes. A charming and romantic place that has many great walks on offer. It may be a little more expensive than the average Greek island, basically because it attracts a lot of day trippers from nearby Rhodes. But if you pick your choices well (and stay out of high season of course), this island will be a real treat, even if I have personally found the island has become very noisy with cars and scooters in the narrow harbour lanes lately, and the stench of raw sewage going straight into the bay does not add much to the general atmosphere. Even spice sellers have become more militant now, they will try to push the stuff down your throat…
Food is generally ok, but the island has lost its main claim to fame in the culinary department: One of the ten best (at least!) outlets for great Greek wine, the Hellenikon Wine Restaurant, has sadly vanished. The only really great place to eat I could find now was the Italian restaurant Bella Napoli, which among other Italian fare has absolutely fabulous pasta! I can also comment that "fresh fish" is not necessarily as fresh as it used be on this island…
Symi has several excellent paths left, some if which are now even restored to absolute perfection. Still conditions are generally very stony, so good, solid mountain boots only, please! Not all paths are suitable for the fainthearted.
Two walkers in the summer of 2001 had these recommendations: There are good and relatively cheap internet cafés in Symi. With respect to restaurants, we would particularly recommend one in Horio called Taverna Giorgios. Be sure to get there early, as the place is widely recognized for its good cooking and good service. They take their pride in displaying their foods before orders are taken. Of course, any tourist having visited Symi simply must visit the Hellenikon Wine Restaurant (now defunct – Ed. note).
Selected walks: All my walks are based on walks found in Rhodes Karpathos Kos Southern Dodecanese by Dieter Graf (referred to below as /Graf/) and Walks in Symi by Lance Chilton (referred to as /Chilton/). If you already have a copy you can also take a look in Trekking in Greece by Marc Dubin (/Dubin/, now out of print). On the web visit Symi Greece Walks, Beaches and Holiday Guide and Photos by Foxy's Island Walks. "Discover Symi on foot" by Kritikos Sarantis, found locally, is not that useful as an actual walking guide, but contains a wealth of information on the things you can find while doing your walks.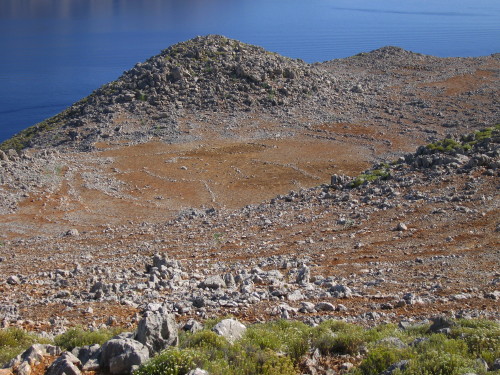 •1 GIALOS – HORIO – AGIA MARINA – PEDHI – HORIO – GIALOS (my total time 3h09, includes stops for photography and a swim in the ocean; +-390m; 3 laps): This is walk 6 in /Chilton/ (but in reverse) as well as Trek 3 in /Dubin/.
It is easy to find and easy to follow, although the path itself (to Agia Marina) is very stony. Good boots are required. The whole path to Agia Marina is marked with red blobs and cairns, take care so you do not loose those!
You will enter the bay of Agia Marina by its right flank (as seen from the sea). From the left flank, the path to Pedhi can be found. From Pedhi you just take the road back to Horio. You might consider strolling along the main road until you are back at the first windmills.
The best way to start off the walk is by following the Tembelosala (the stair street NE of the bus stop) straight up towards the windmills.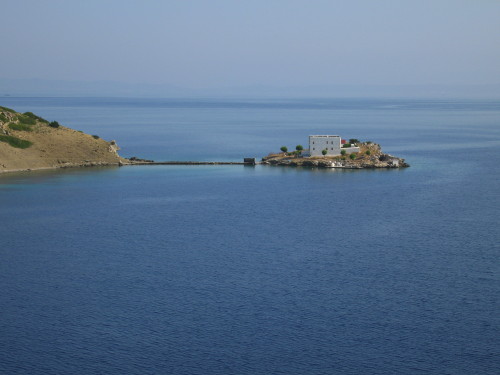 •2 GIALOS – AGIOS EMILIANOS – HORIO (my total time 6h31, includes stops for photography, a small picnic and several shorter rests; +777m -655m; 3 laps): This is walk 40 in /Graf/ (1st edition, walk 46 in the 2nd), walk 3b + 11 (rev.) + 4a (rev.) in /Chilton/ as well as a variation of Trek 1 in /Dubin/.
No particular problems found en route, but a long one this in the heat. In summer you should start very early. I started 0600. Bring preferably three big (1.5l) bottles of water per person (or refill at Agios Ioannis). The obvious way to cool down after it, even with cool music, is the Kali Strata snack bar. You have deserved it!
You should be able to find the start of the walk by following the descriptions in the books. But beware that the crossroads where you start ascending (on a lane quickly leading to the path) is actually a 4-way junction! Your route is approx. a 45 degree left turn, taking the second of the four lanes (counting clockwise from your left).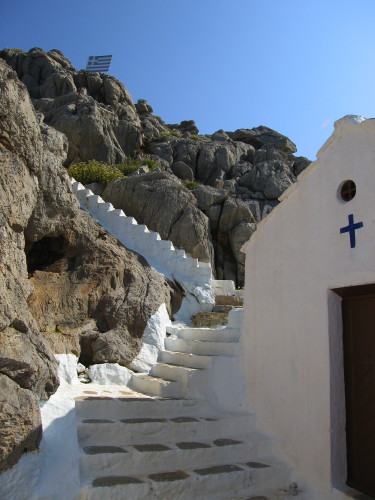 •3 GIALOS – AGIOS VASILIOS – GIALOS (my total time 5h16, includes stops for photography, a swim in the ocean and some sightseeing; +-686m; 2 laps): This is walk 39 in /Graf/ (1st edition, 45 in the 2nd), walk 2 (rev.) + 4a + 12 + 3b (rev.) in /Chilton/ as well as Trek 2 in /Dubin/.
From the top of the Kataraktis stairs the route is now well marked.
One last warning: Be VERY careful at the last 70m drop down to the sea at Ag. Vasilios!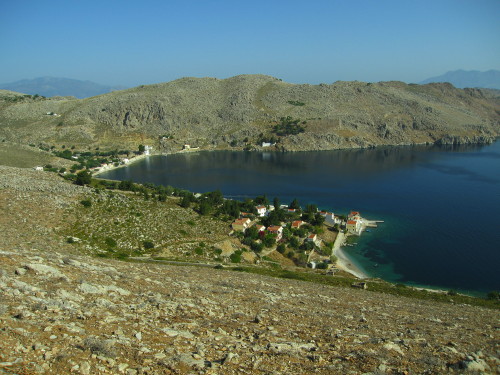 •4 GIALOS – EMBORIO – GIALOS (my total time 3h51, includes stops for photography, some sightseeing and a lunch in Emborio; +-?m; ? laps): This is walk 41 in /Graf/ (1st edition, 47 in the 2nd).
No big problems, but parts of the path is slightly destroyed and other parts somewhat overgrown and/or rough as well as steep! The path towards Toli was bulldozed and the beach "developed" in some form. Looked totally uninteresting so I cut that from the walk.
The taverna in Emborio serves very tasty food, so be sure not to miss out on that. The girl serving the tables always asks "how many", meaning how many portions, not how many fish (etc.) you want, even if you are clearly just one person 🙂
Two walkers tried these walks in the summer of 2001, with the additional help from /Chilton/:
• Yialos – Emborio – Yialos: This corresponds to walk 8 in /Chilton/. Duration 1.5 hours excluding time spent on the beach. The point of departure is easy to find by following Chilton's instructions. The landscape is picturesque and there are also a well maintained kalderimi parts of the way. The view to Agios Merkourios from Emborio beach before descending down to the main road is very nice, and you'll also see the fish farms from here. The local taverna offers ok greek salads, although not as nice as the restaurants in Yialos. We would have been much more pleased if it were served with fresh herbs. We returned to Yialos by following the main road, which was ok, but not as nice as the inland alternative.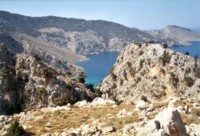 • Mihail Perivliotis – Agios Vasilios/Lapatos beach : This corresponds to trip 12 in /Chilton/. There is no need for additional information. We would like to offer you an advise, though. Bring enough water! We were two persons, carrying a total of 5.5 litres of water. That was not enough. The last 60 minutes down to Yialos, therefore, were, well… hot.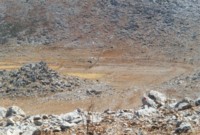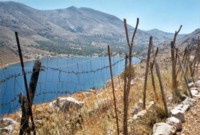 • Yialos – Horio – Agia Marina – Pedi: This corresponds to walk 6 in /Chilton/. We reversed the route, and had some difficulties in finding the point of departure from Horio. We had to ask our way. According to Chilton, the descent to Agia Marina from Yialos is stony and uncomfortable. We don't agree. Albeit stony, the path is ok, as long as your boots are good. Most of all, the view to Agios Nikolaos and Pedi from Agia Marina is simply magnificent. If you don't want to walk all the way from Pedi to Yialos, there's a bus which leaves every now and then, at least in the tourist season.
• Good starting points: • Gialos – all walks start from there • Horio – as an alternative all walks can also be started there
• How to get there: • By ferry or catamaran from some islands, most notably Rhodes, which has daily connections
• More info: • The Symi Visitor • Symi Greece Walks, Beaches and Holiday Guide and Photos by Foxy's Island Walks
---
This page was last modified at January 16, 2018.
©1997-2018 .