Σίφνος – Cyclades
It might come as a surprise that the smallish island of Sifnos could be such a walker's island. But the terrain is mountainous and rough and you won't have any trouble filling your days with some very nice outings. In addition to the seemingly almost countless walks described in the books and other sources listed below, be sure also to pick up a copy of the local map which details the entire path network of this island.
In the past, destruction of old kalderimis was the melody, but lately it seems that the local authorities has taken walking on the island seriously. Reportedly, almost all of the main paths are well waymarked with a combination of paint, cairns and the occasional signpost and even some pretty minor ones are now  waymarked! This makes finding your way on this island a lot easier than it used to be.
Sifnos is usually a pretty quiet and idyllic place, but it has become the most popular island in the western Cyclades, so I expect high season to be hectic. On your visit you should not miss the charming villages at Kastro, Faros and Vathi. There are many good beaches, although not for nudism. The only nudist/mixed place to go are the cliffs below Kastro, which are also good for snorkeling. Follow the stairs from Kastro down to the small chapel below. Just before the chapel, follow even narrower stairs to your right. The stairs will take you down to a path down to the cliffs. Watch your steps, there has been a small landslide here, which makes the path very narrow (or close to nonexistent) at one point.
Sifnos is also a good place for day tripping to the other islands in the western Cyclades. This makes it an ideal base in quiet surroundings for both a relaxed and an active holiday.
Selected walks: For walks on Sifnos take a look in Trekking in Greece by Marc Dubin (referred to below as "/Dubin/"), Walking the Aegean Islands by Dieter Graf (referred to below as "/Graf/") or his newer Santorini, Sifnos and the Western & Southern Cyclades, which should be more up-to-date. On the web visit Walking, hiking and trekking on SIFNOS by Raymond Verdoolaege (referred to below as "/RV/") or Travel, Holiday and Visitor Guide for Sifnos, Greece by Foxy's Island Walks. There is also a book "Sifnos: Walking in the island" by Martine and Christian Lot (lot.christian@wanadoo.fr) available on the island. Good Anavasi (1:25000) and Road Editions (1:35000) maps exist (see above).
2005 Updates: I have received updates for the walks in /Graf/ from a keen walker, see Notes on Walking in the Aegean Islands by Dieter Graf (2000) Serefos & Sifnos.pdf.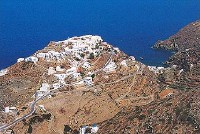 •1 Walk from Apollonia to Kastro: A short half hour walk one way, but can be very hot. Take the cobbled footpath out of Appolonia towards Kato Petali. When the path ends, follow the road from Kato Petali back to the main road. Cross the main road, follow it for a few meters, and then enter what looks like a ditch on your left hand. Surprisingly, you find yourself on the top of one giant stairway taking you almost the whole way down to the foot of the Kastro. Walk the last couple of hundred meters along the road. When you have visited Kastro you can take the bus back if you don't want to return up those stairs. The bus has hourly departures.
An alternative route can be found as the initial part of walk 44 in /Graf/. That route is I believe the same as the reverse of this walk in /RV/. As you can see on that page a route via Artemonas is also possible.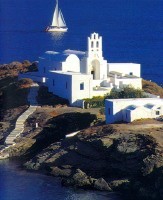 •2 Walk from Faros to the Christopigi Monastery: This is another very short walk. Take the bus to Faros, and then find the path over the headland to the west. After that, just follow the road to the monastery. You pass two nice beaches on this walk.
This walk is the last part of walk 42 in /Graf/ in reverse. Another description of that walk can be found on Raymond's page.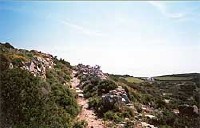 •3 Walk from Apollonia to Profitis Ilias: Follow the directions in /Dubin/, but beware that a dirt road has been bulldozed across the path just after the last of the fields. You will find a small entrance between stone walls more or less straight across that road when you hit it. Don't expect waymarking of any kind at this point, but a sign will suddenly appear further up. Apart from this, the trail is easy to find and follow. The steps up to the mountain takes off to the right from the main path, but this spot is clearly marked. You can combine this walk with walk 4 below.
You can also find this walk described as an alternative in walk 41 in /Graf/. It is also described as part of one walk to Vathi in /RV/.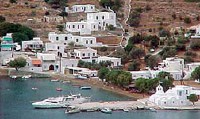 •4 Walk from Apollonia to Vathi: Follow the same initial route as above, but don't turn right for the top of Profitis Ilias. Instead keep straight on (or add that walk to yours as a side trip). When you come to the top of the saddle below Profitis Ilias, do not follow the directions in /Dubin/ (if you are not equipped with long trousers and a jungle knife, as you will have to crush your way through tons of thorn bushes in big piles on the way – I think /Dubin/'s route here could be the one also described in /RV/, but I could not find a good path via that spring/well on my visit). Instead, take the left of both of the two forks (as the blue waymarking, and any friendly muleteer on the way will tell you). The path is initially very good, but you may find yourself in a mess of stones and gravel shortly. If you do, do not continue, the real path has probably sneaked away up to your left. Retreat and find where it continues. After this, the path again improves, and you should with no difficulties get down to that big renovated white building you have been seeing below you for some time. Just before entering the lot surrounding this building, the continuing path again disappears sharply to your left. You will find it well hidden behind some bushes. After this, the path and the blue paint blobs should take you the rest of the way. But watch your step, the path is difficult at some points, with loose stones and slippery dirt. Towards the end (a steep descent down to Vathi) it is also very narrow.
On this hike you should bring at least two 1 1/2 liter bottles of water. Duration will approach 4 1/2 hours if you choose to include also the side trip to Profitis Ilias, at least if you have to use the "try every possibility" method, as I did. With the above directions, AND the local map I mentioned earlier, you should be better off, and be able to do the whole trek in shorter time. But do not hurry to break any records, take your time and enjoy the ride!
As seen also in /Dubin/ several alternative routes to Vathi do exist, one only slightly different (takes a detour via Ag. Nikolaos Aerina) is walk 41 in /Graf/. That one is also an alternative in /RV/. Most others are partly ruined by road building. One possibility is described as yet another alternative in /RV/ (but in the reverse direction). The new road from Appolonia to Vathi does, however, enable you to take the bus back. It will take you all the way to Kamares, after a stop at Artemonas. It has hourly departures. A (more expensive) boat service will also take you back to Kamares.
• Good starting points: • Kamares – Frequent buses to/from Apollonia • Apollonia – Most hikes start from here
• How to get there: • By ferry from other islands in the Cyclades West • By ferry from some islands in the Cyclades Central • By ferry from the mainland • By hydrofoil from some Cycladic islands
• More info: • Walking, hiking and trekking on SIFNOS by Raymond Verdoolaege • Travel, Holiday and Visitor Guide for Sifnos, Greece by Foxy's Island Walks
---
This page was last modified at November 1, 2009.
©1997-2009