Νίσυρος – Dodecanese
Nissiros is an island of volcanic origin close to Kos. It is very nice as a walking and sightseeing destination, and offers the peace and quiet that some other nearby islands lack. Despite my earlier dire prophecies that the island would become ruined by the day trade of shipping "volcano spotters" in from Kos, the island has "grown up" tourist wise and is extremely pleasant to visit.
The food is generally very good, great in fact. Also be sure to check out the local nonalcoholic almond based drink Soumada. But perhaps even better is the cinnamon flavoured Kanelada.
Selected walks: For walks on Nissiros take a look in Rhodes Karpathos Kos Southern Dodecanese by Dieter Graf (referred to below as /Graf/).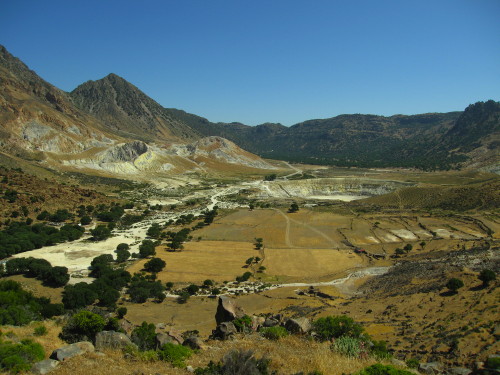 •1 MANDRAKI – VOLCANO – MANDRAKI (my total time 5h03, includes stops for photography, some shorter rests and some sightseeing; +-726m; 2 laps): This is walk 35 in /Graf/ (1st edition, walk 41 in the 2nd). Good boots are required! And a walking stick is recommended.
The initial route suggested by /Graf/ is not the officially waymarked one and is an unnecessary detour of 5-10 mins (at best, if you manage to take the correct turn at EVERY unmarked crossroads like I did, there are many of these). Instead stroll further up the road after the book wants you to go left on a narrow path. At the next crossroads the path to Emborio (big sign) starts in the middle of the fork in the road. Continue to carefully follow every big green arrow painted in the asphalt to shortcut the winding road that you meet every now and then.
The return to Mandraki should be done via the dirt road from the south of the crater (via the chapel Stavros). If you instead want to try to hunt out the overgrown goat traces /Graf/ seem to suggest, be my guest.
Near the end of the walk /Graf/ (at least the 1st ed) misses out on the very nice kaliderimi/footpath combination that should be easy to spot (again red blobs, start hunting immediately when the Paleokastro comes into view). See also the nice walking map that you can download from the Nisyros page by Beate and Jürgen Franke.
The Paleokastro itself is better left for an evening stroll, so I cut that one out.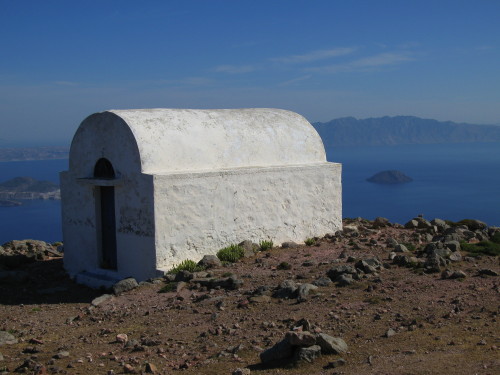 •2 MANDRAKI – PROFITIS ILIAS – MANDRAKI (my total time 4h26, includes stops for photography, some shorter rests and some sightseeing; +-698m; 1 lap): This is walk 36 in /Graf/ (1st edition, walk 42 in the 2nd).
Wow, do not miss out on this one! What more can I say? Well, I could make a cheap joke about the architecture of Dieter Graf being as short lived as some of his writings, but I will stay out of that one. Oops… (You will need the 1st edition of the book to understand what I mean…)
• Good starting points: • Mandraki
• How to get there: • By tour boat from Kos • By ferry or katamaran from some islands
• More info: • Homepage von Beate und Dr. Jürgen Franke • Fysimera – guided walking on Crete and Nissiros (Scandinavian language)
---
This page was last modified at January 16, 2018.
©1997-2018 .