FUERTEVENTURA – Canary Islands
Fuerteventura is probably the one of the Canary Islands with the most sand per tourist… Excellent for a relaxed beach holiday with some good eating. It even has several good walks.
But if you don't come for the walks, and even if the beaches don't tempt you, DO come here just to eat at "El Rincon Italiano" for one week! This little gem is hidden away behind a German bierstube in a blind alley to the left of the big entrance of the restaurant "Columbus", not far from Faro, just north of Morro Jable. Here you will be treated with the most exquisite dishes imaginable, and at a VERY decent price. The chef is said to have a history from the La Scala opera house of Milan. Obs: The restaurant has changed ownership, and is now called "Saperi Sapori". The food is still reported to be very good!
Other good (and Spanish) places to eat in Morro Jable and surroundings are: "La Chosa" and "El Rancho", among many others… They of course have good fish restaurants as well, e.g "Confradía de Pescadores" by the small fish harbour.
In Corralejo the Chinese restaurants are very interesting. Here you can find specialties like Shark Fin Soup and Pekin Duck! These restaurants are also more relaxed than the Spanish variants in the central Corralejo, which are just packed with tourists, and you have to be early to get a decent table there. The most interesting Spanish food outlets are by the harbour/beach promenade, which are less frequented by the tourist masses. E.g. Cordon Blue, which is very simple, but also very hospitable.
In addition to the walking guides mentioned in the text below, there is also Walking in the Canaries Volume 2 by Paddy Dillon. On the web visit Fuerteventura Walks & Photos by Foxy's Island Walks.
Walks from Morro Jable: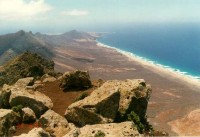 •1 MORRO JABLE – PICO DE LA ZARZA: A good walk up to 807 meters, where the winds may be dreadful, but where the views are excellent. Careful about that edge though, especially with a gale in your back… It's several hundred meters STRAIGHT down. The walk follows a clear path from behind the Hotel Riu Ventura. Use the instructions found in Noel Rochford's Landscapes of Fuerteventura. Estimated time: 3 1/2 hours return.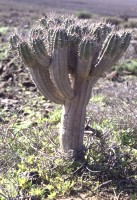 •2 MORRO JABLE – GRAND VALLE: Take the dirt road south from Morro Jable, then head up the Grand Valle after about 4 kilometers. Use the instructions found in Noel Rochford's Landscapes of Fuerteventura. Be sure to spot the indigenous Jandia Thistle on the way. When you are on the top of the pass, take a rest and return the same way back. It is theoretically possible to continue down on the other side, to Cofete, but I would not do that if I where you (I did not, it did not look very safe). Estimated time: 3 hours return.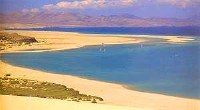 •3 MORRO JABLE – COSTA CALMA: Here you have several options. You can walk the whole stretch (or as much of it as you like) and return the same way, or you can the the bus back from Costa Calma to Morro Jable. Estimated time for the whole stretch: 3 hours one way, swimming not included!
Walks from Corralejo: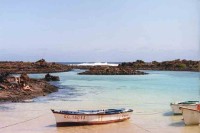 •4 LOBOS: This is an excellent easy walk. Take one of the morning boats out (around 10.00) and be picked up again at around 16.00. The whole round trip (including a picnic at the firehouse, and climbing the volcano) will take up to 2 1/2 hours. Then you have the rest of the day off at the quiet, idyllic beach. Also see Noel Rochford's Landscapes of Fuerteventura.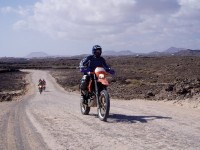 •5 CORRALEJO – EL COTILLO: You can do the whole stretch, returning by bus, or as much of it as you care, and then walk back where you came from. The jeep dirt road towards El Cotillo starts from the extreme north west point of Corralejo. There is no swimming along the way, not before close to the lighthouse at the other side of the island, but you can watch and admire some REAL waves break, and that is not so bad either. Just be warned that you will have to bite a lot of dust from passing vehicles. And some car drivers obviously had not read the fine print in their car rental contracts… I had the pleasure of seeing one of these being towed away (it was a matter of time, really!). But it is possible to shortcut the road at some points, as the landscape is mostly flat (but also very rough). Also be warned that the 4km from the lighthouse to El Cotillo is now a paved road, which makes that bit very little interesting. And I am afraid that the bus connections back from El Cotillo are not so good… It may be better to do the walk in the opposite direction, if you can find a morning bus out. Also see Noel Rochford's Landscapes of Fuerteventura. He has bus tables, but they were very out of date in my 1st Edition of the book (as of 2008 a 4th edition exists, be sure to get that one). By the way, please observe that the new bus station in Corralejo is at Circunvalacion. Unfortunately there is not much information to find there either… It seems that line 6 to Puerto Rosario is the only line, and that you will have to change bus there. At least this connection is very frequent (each hour or half hour). Towards El Cotillo there will probably only be a couple of departures a day each way… Estimated time: Just over 5 hours return to the surf point (no, it has nothing to do with the Web!) at the cove of La Seba. Around 3 hours to the lighthouse (one way). Around 4 hours to El Cotillo.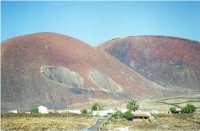 •6 CORRALEJO – LAJARES: This excellent walk follows a very rough jeep road from Corralejo in direction of Lajares for most of the time. For more information on this walk, and descriptions of the mountains you pass, take a look in the locally available Fuerteventura by RAI ° MUNDO. To get started, it is best to find one of the faint tracks/trails that leads from Corralejo straight in the direction of the San Rafael crater (or a little to the right of it). This area is heavily affected by road building, but you should be able to find something like a track, or you can just cross the malpais as best as you can. Head for the white concrete building with the large freshwater symbol painted on it, you can clearly see the jeep road at the left of this building. Just after the sign telling you that you have no access to the area around the building, the road also forks. Take the fork to the right, and follow this road from volcano to volcano. You can use this road all the way to Lajares, or you can take a right fork in the directions of Montana Colorada, on a footpath whose entrance is marked by some giant rocks. Another fork to the right, just a few minutes later, will allow a peak down in one of the volcanic cones, otherwise continue straight ahead for Montana Colorada. Just under this mountain, the footpath ends, and it's what looked like a nice road from that point. Estimated time: To Lajares, 2 hours. To Montana Colorada and back, just over 3 hours.
There is, however, a different approach on discovering many of these volcanoes, which does not use so much of the jeep road. You can enter into Las Calderas, and probably also continue into Caldera Encantada, and you may even be able to connect with the road again after that. This faint and rocky path (heavy boots only!) is easy to find from the jeep road. It is on your left (of course) when coming from Corralejo, and the entrance is marked by cairns on both sides, not so long after passing the Bayuyo crater. If you do not follow this path, try it as long as up to the top of the pass, it only takes a few minutes. This way you can at least take a small peak into the relatively green landscapes inside. I am sorry that I did not have more time to explore this track.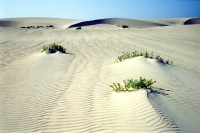 •7 LAS DUNAS: Everyone visiting Corralejo will of course do some of this stretch, to get an impression of how much sand there really is here. Giant dunes can be admired! If you walk the "beach promenade" all the way from the central Corralejo it will take more than two hours to get to the end of it. Do as much of it as you like. Estimated time: 4 hours return, add your time for swimming and sunbathing!
Walks from El Cotillo:
Some of the walks from Corralejo can also be accessed from El Cotillo. There are also other walks from here. Take a look in the locally available Fuerteventura by RAI ° MUNDO.
• Good starting points: • Corralejo • El Cotillo • Morro Jable
• How to get there: • By air • Some ferries from other canary islands do exist
• More info: • Fuerteventura Canary Islands, a virtual travel guide • Fuerteventura News – Fuerteventura, News Guide, Information, Travels and Places to visit • The Canary Islands – Fuerteventura Holiday, Beach and Walks Guides by Foxy's Island Walks
---
This page was last modified at January 4, 2014.
©1997-2014