AMSTERDAM – The Netherlands
It is very nice to e.g stroll along the canals in Amsterdam. Many nice quaint hotels is this district too. But for more serious walking refer to these books: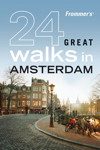 Selected walks: For walks see Frommer's 24 Great Walks in Amsterdam and Walk & Eat Amsterdam by Cecily Layzell (pictures above). I have not used any of these myself though so I cannot claim to know much about them.
• Good starting points: • Just about anywhere in the central canal district will do for nice strolls, otherwise refer to the books
• How to get there: • By air
• More info: Sorry, none yet
---
This page was last modified at February 16, 2011.
©1997-2008 .