AMALFI – Italy
Amalfi (I am sure you have seen the pictures…) is an insanely situated village on the Sorrento Peninsula. Great walks can be done straight out of town.
The Amalfi coast even has its own D.O.C for wine ("Costa d'Amalfi"). As can be expected the wine is superb, even the simpler table wines, so even if the food is generally touristified and overpriced the town is mostly a pleasant place to dine. Try to stick to the simpler back street Trattoria's. E.g San Giuseppe's is an excellent choice.
Selected walks: For walks in the area, see Landscapes of Sorrento, Amalfi and Capri by Julian Tippett (referred to below as "/Tippett/"). There is also Walking on the Amalfi Coast by Gillian Price. On the web visit Amalfi Tourist Office for some suggested routes.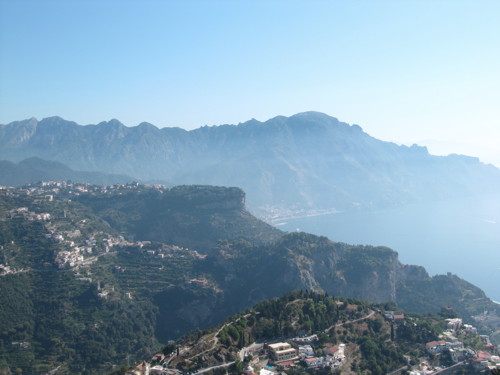 •1 AMALFI – POGEROLA – SAN LAZZARRO – TOVERE – AMALFI (my total time 5h15; 998a 998d; net walking time 4h04): This walk consists of segments 4-34-35-38-1 in /Tippett/.
A wonderful walk with extensive views. But fairly long, and be aware that the height difference is huge for a walk where almost all height gained or lost is by using stairs or steps of some sort. I do not think I have ever been more stiff after a walk…
Not much to add to the instructions in the book. The walk is also marked for the part. In Pogerola: "After 100m" is more like 50m.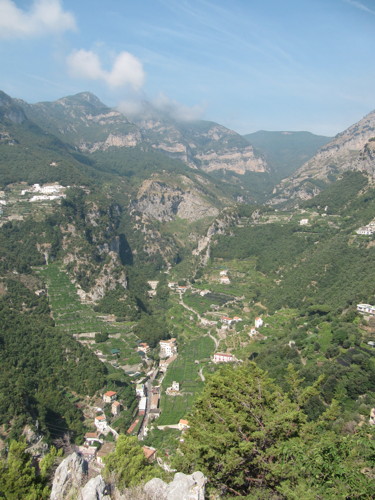 •2 AMALFI – VALLY OF THE MILLS – TORRE DELLO ZIRO – ATRANI – AMALFI (my total time 4h40; 710a 708d; net walking time 3h18): This walk consists of segments 12-16-14-2 in /Tippett/.
Another great and also very varied walk. The descriptions in the book are Spartan at points, but I had hardly any doubt about where to go. Read and interpret the book carefully. But that three-way crossroads where each option passes through an arch must be dreamed up by the author… 😉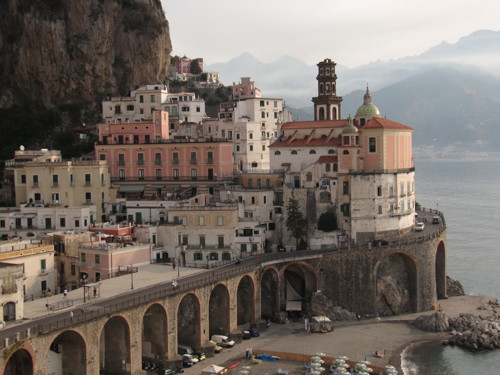 •3 AMALFI – ATRANI – MINORI – MAIORI (my total time 3h28; 503a 511d; net walking time 2h32): This walk consists of segments 2-15-39 in /Tippett/.
A nice and slightly easier walk. No problems encountered.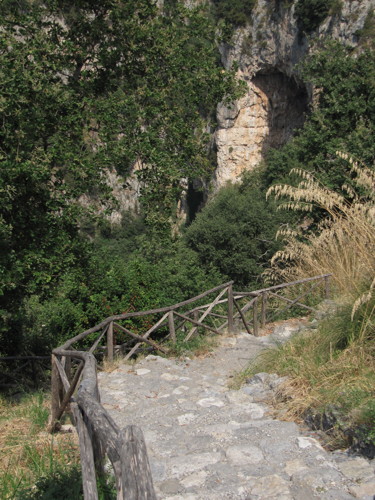 •4 AMALFI – TOVERE – MARINA DI FURORE (my total time 3h25; 581a 569d; net walking time 2h39): This walk consists of segments 1-38-36 in /Tippett/.
This walk should not be missed for its wonderful decent into a steep ravine. Again fairly Spartan instructions in the book, but no real problems encountered.
The bus stops at the western end of the bridge for your trip back to Amalfi.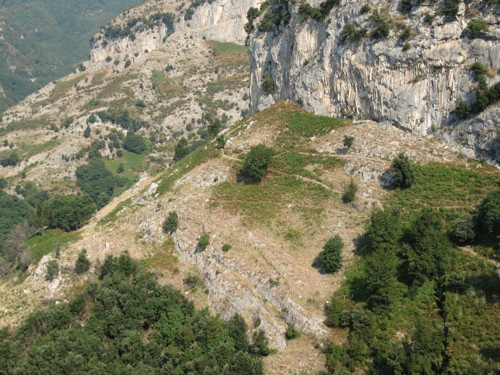 •5 AMALFI – VALLE DELLE FERRIERE – AMALFI (my total time 5h42, this also includes a light lunch in Pogerola on my way back; 806a 815d; net walking time 4h00): This walk consists of segments 6-13-4 in /Tippett/.
A superb walk, and there should be no difficulties finding your way.

• Good starting points: • You are already there…
• How to get there: • By bus • By ferry
• More info: • Amalfi Tourist Office describes a few walking routes • SITA S.p.A. has bus schedules for the area, but in Italian only • Public Transportation in the Amalfi – Sorrento – Salerno – Naples Area by SITA is an English language digest of the SITA bus information • Sita Bus is another English language version of the bus schedules • Trenitalia.com has English language train information for the area, and you can also purchase tickets online • Amalfi Coast Web has English language bus and ferry information • travelmar has some ferry schedules for the area • METRÓ del MARE has more ferry schedules • Unico Campania has information about all public transport in the Naples area • Alibus runs the Naples airport shuttle • Transport strikes in Italy should be checked for information about strikes in public transport • Italian Transportation Strikes is another site to check for information about strikes
---
This page was last modified at November 9, 2011.
©2011 .