Σκιάθος – Sporades
Skiathos is a popular and pretty crowded island in season, but it has good beaches (also for nudism).
At least it was well suited for walking. However, many of the old tracks are now constantly run over by new dirt tracks, so I am not sure how they all fit together anymore. But strolling along the tracks is also a possibility, and you will be able to cover a lot of ground by doing it that way. See more below.
Skiathos Town is nice, but not the prettiest town in the Sporades. It has a bit more cosmopolitan feel to it than the other port towns, and some might actually prefer this, so it's mostly a matter of taste.
Selected walks: In Marc Dubin's book Trekking in Greece ("/Dubin/") trails are described, but these walks should probably be approached quite differently now, as so much have changed. By following the ring road counterclockwise around Skiathos town you will have an option of following the road/track to Moni Evagelistrias and Kastro (first crossroads) and road/track to Kastro and marked footpaths towards Moni Evagelistrias (second crossroads). There are also a few other marked footpaths forking off the tracks, e.g to Ag. Dimitrios from the Moni Evagelistrias road. I have not checked out any of these paths, with the exception of one briefly mentioned below. They are officially marked and should therefore theoretically be kept open, but I am unsure about their condition and how much is still actually on paths anymore.
On the web visit Travel and Holiday Guide for the Greek Island Of Skiathos by Foxy's Island Walks.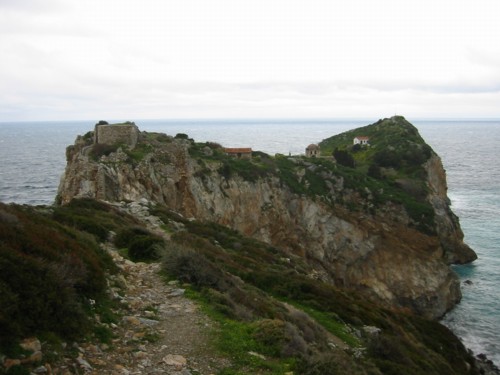 •1 CHORA – MONI EVAGELISTRIAS – PROFITIS ILIAS – KASTRO + return (my total time 4h41, includes short stops for photography, small lunch and the necessary sightseeing; +-936m, 2 laps): This long hike along tracks takes in most of what is described for both Trek 1 and 2 in /Dubin/. Kastro (picture above) is an insanely situated ruin town that must not be missed!
Facing the town from the harbour you go right until you get to the ring road, then turn left. Circle the ring road to the first crossroads signposted Moni Evagelistrias and Kastro. Turn right on this road (later track). Just before Moni Evagelistrias you must leave the Kastro road by forking right. There still seems to exist a path from Moni Evagelistrias in the direction of Kastro but I am not sure if you can get through all the way anymore. There are no signs from the other side. To pick up the track again walk up the stairs just before the monastery, and pick up the road by the small chapel. The road winds up and down, left and right until it finally passes the church of Profitis Ilias. Not long after that several crossroads may take you to more monasteries, or by crossing the saddle, down towards Kastro. All important crossroads are marked, otherwise just follow the main track.
Back towards town, retracing your steps from Kastro, not long after Profitis Ilias again, fork right on a concrete road with street lights that forks steeply and diagonally down towards Chora. It is signposted to the Panorama tavern. This road meets the ring road at the second of the crossroad mentioned above. There is also an alternative marked footpath for the last stretch, forking off left. This was blocked by a ton of thorny branches, probably to keep animals in, but it also kept me OUT. If you want to crush through this mess, be my guest.
• Good starting points: • Skiathos Town (Chora)
• How to get there: • By air • Excellent ferry/hydrofoil connections from the other islands in the Sporades • By ferry/hydrofoil from the mainland
• More info: • All about Skiathos by SKIATHOS INFORMATION SERVICES • Travel and Holiday Guide for the Greek Island Of Skiathos by Foxy's Island Walks
---
This page was last modified at June 24, 2015.
©1997-2015