Λέρος – Dodecanese
L
eros does not have that "touristy" feel to it, and the bays of Agia Marina and Alinda make a very beautiful setting! Most photographs of this bay is taken from the Kastro, and hence excludes what really makes the view so intense, with that large castle sitting watch over the small villages from the hill top. Good and cheap food can be found everywhere, and the people are friendly.
What destroys some of this nice image is the positively lethal main roads. The roads are very narrow and both the cars, the bikes and the scooters are moving at the speed of light. At night the whole bay is like a racing track for the local motorbike population.
Selected walks:
For walks on Leros see Samos Patmos Northern Dodecanese by Dieter Graf (referred to below as "/Graf/").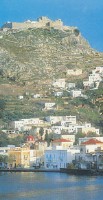 •1 (AGIA MARINA -) PLATANOS – KASTRO – PLATANOS: From Platanos you have two choices. If you dislike stairs you can stroll along the 2km asphalt road, otherwise it's 800m/370 steps up the signposted stair street to the Kastro.
•2 ALINDA BAY AND BEYOND: Start in Alinda (or even Agia Marina) and walk the road around the bay. Then continue on paths beyond. A possible route is described in /Graf/ as walk 38.
• Good starting points: • Agia Marina • Lakki
• How to get there: • By air • By ferry from some islands • By ferry from the mainland • By hydrofoil from some Dodecanese and Northeast Aegean islands
• More info: • Leros Island of Artemis
---
This page was last modified at April 21, 2009.
©1998-2009 .