Ίος – Cyclades
I
os has a picturesque little main town sitting on a couple of hills behind the port of Gialos. The town is completely dead for most of the day. It only comes to life when the bars open at night.
Ios can be visited on a day trip from the other central Cycladic islands. You may want to spend the night to experience some bar life?
Gialos also has several friendly snack bars where you can sample some delights while waiting for your ferry to arrive.
Selected walks: For walks on Ios take a look in Walking the Aegean Islands by Dieter Graf or his newer Santorini, Sifnos and the Western & Southern Cyclades, which should be more up-to-date. Other possibilities, suitable when you are on a day trip: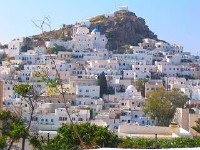 •1 GIALOS – HORA: Short and obvious.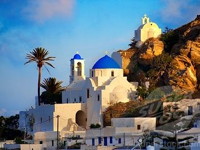 •2 HORA – HORA HILL (to the little church on the hill top): Very short, but fun. You will have a nice overview of the town and much of the island. The path to the summit runs from the front yard of a church to the east of the top (if the gates are open). If you can't find it, other options do exist, but you will have to scramble over rocks and stone the final bit. It is well worth the climb, although it might be a little too hot in the middle of the day. But then you will have the whole place to yourself. Most people go up here to admire the sunset.
• Good starting points: • Gialos
• How to get there: • By ferry from other islands in the Cyclades • By ferry from the mainland
• More info: Sorry, none yet
---
This page was last modified at April 21, 2009.
©1997-2009 .