Ύδρα – Argo-Saronic
C
an you imagine what a Greek Island (or The World for that matter) would have been like without cars? Well, wonderful, if you ask me. And here is the proof, because cars are in fact banned from Hydra. No idiots on motorbikes either, because (you guessed it) there are no motorbikes! There are a couple of trucks (including a garbage truck) in town, but other than that land transport all over the island is done by donkeys etc. This also means that all the old donkey trails that are so great for walking are also perfectly maintained, as they are in daily use. Perfect! This has given the island an exclusive and expensive reputation that at least in part is well deserved, but it is all well worth it.

Selected walks: For walks on Hydra take a look at HYDRA: DONKEY TRAILS, MONASTERIES, AND THE SEA THE SEA (sic) by Janet McGiffin, referred to below as /McGiffin/. A good Anavasi (1:25000) hiking map exists (see above).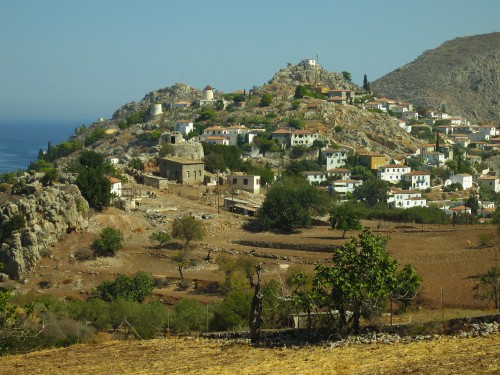 •1 HYDRA TOWN – VLICHÓS - PALAMIDÁS – AGIA MARINA (+ RETURN) (my total time 3h44, includes stops for photography and drinking; +-414m, 2 laps): This is most of hike #3 in /McGiffin/. Due to lack of time I did turn go the entire way to Episkopí, but turned around after a small rest at the little beautiful chapel of Agia Marina.
The walk is easy to find and follow, but there is more detail needed than is provided by /McGiffin/ at Kamínia. "Pick your way around the beached fishing boats…", where? Instead walk down to the small harbour and ascend the concrete stairway at the other side. On top of the few stairs the paths onwards begins.
After Palamidás it is possible to short-cut the switch-blade of the dusty track. Refer to the map here. The donkey path in question is easier to spot on the return, though.
• Good starting points: • Hydra town – most accommodation is here, walks can be done straight out of town
• How to get there: • Excellent ferry/hydrofoil connections from Piraeus' Great Harbour
• More info: • HYDRA: DONKEY TRAILS, MONASTERIES, AND THE SEA THE SEA
---
This page was last modified at July 20, 2008.
©2007-2008 .