Αίγινα – Argo-Saronic
A
egina is the home of pistachio nuts, and a good place for sightseeing. The ideal getaway from Athens and an excellent place for doing more or less nothing while you are waiting for your flight home. A fair number of hotels and rooms in town to choose from makes it stress free to stay your last night here.
The single column left at the archaeological site of Aegina town might just as well be admired from the distance, but you should at least visit the famous Sanctuary of Aphaia, if you are not totally put off by old ruins. The temple is rather small, but well preserved. It has some architectural specialties as well, for those who are interested in that sort of thing. But do not waste your money on expensive tourist coaches to get there. The frequent and cheap local bus from Aegina town in the directions of Agia Marina is just as easy to use. It stops right outside the gates of the sanctuary. Just beware that you are in all cases expected to have a ticket before you board a bus on this island. If this is impossible the bus driver can sell a ticket also, as a last resort.
A
egina town itself is very charming. A very nice place to relax and sample some seafood. Many good tavernas here, but if I should recommend just one it would have to be the Ouzeri Psarotaverna Flisvos, which has really great seafood.
Agina Marina, on the other hand, is just another tourist resort and is not very interesting in itself. However, you can do several walks straight out of town, and it is situated near many more.
Selected walks: For walks on Aegina take a look in "A walking guide to Aegina" by Gerald Thompson (1997), referred to below as /Thompson/, available in bookshops on the island. A Road Editions 1:25000 map also exists.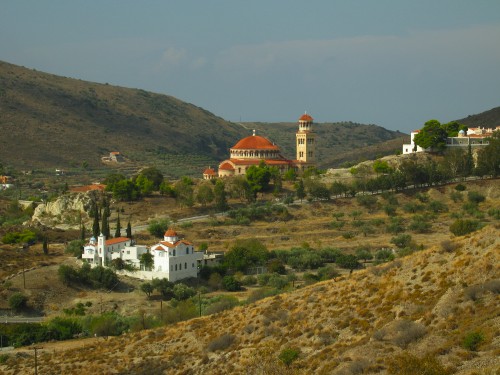 •1 MESAGRÓS – PALEÁ HÓRA – AGHII – SOUVÁLA (my total time 3h41, includes stops for photography and drinking; +406m -468m, 1 lap): This is walk A.V in /Thompson/.
The ancient capital of Paléa Hóra makes this an extremely interesting walk. The walk had a few problems with orientation, and the book is in need of an update, but I still had no huge problems finding my way.
I started at Mesagrós walking back towards the cemetery. After that the correct dirt track is the first on the right. There is no sign anymore.
The track does not "end abruptly" anymore either, it continues over a field and descends on the other side. Beware that you should only descend 2-3 terraces before turning right and continue upwards again to Paléa Hóra.
After Paléa Hóra I used the "slightly more adventurous" route. No problem to mention there. Then after the two chapels ALMOST return to the road and turn down left on an overgrown track where the entrance is hidden by some building debris. Make sure you get to the upper of two (remains of) tracks available.
Back on the road it took me at least 6-7 minutes to reach the "4 or 5 minutes" point… Turn right just before the garbage heap found at some huge clearing. Turn left at the fork immediately after. This fork is not mentioned in the book. After that it is just to move ahead in the obvious direction.
I found little of interest in Aghii, so strolled the road to Souvála harbour, where my walk ended.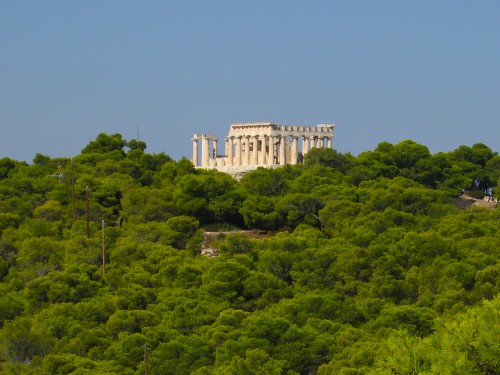 •2 AGIA MARÍNA – APHAÍA – MESAGRÓS – AGIOS IOANNIS – AGIA MARÍNA (my total time 2h57, includes stops for photography and drinking; +-419m, 2 laps): This is walk B.VI in /Thompson/. Note that my walking time does not include any time for actual sightseeing or visits to the sites and places mentioned in the text.
For the most part the walk is easy to find and follow, doing Aphaía first, but after strolling up the road (initially) and track (eventually) to Mesagrós the situation is slightly different from what is described in the book. The first pottery (right hand side) was missing, the pottery on the left side of the road is the second one mentioned in the text. You can confirm this by its sign (in Greek only). The continuing route is then a left fork from there. Entering the ravine again new building activity may obstruct the path in the near future. At least for now they had made some effort to keep it clear of the landfill.
Be sure to CROSS the ravine before looking for a path on your right a minute later. It is even marked by red dots.
My route then follows the "steep cart-track" before I found an interesting alternative which minimizes the use of the dusty track. Just after the track enters the forest a very nice footpath (red blobs again!) goes left, taking you the entire way up to the top of the ridge. Entering the path/firebreak here you go right then left twice where after a few minutes you pass the signed turn-off for Agios Ioannis (sign in Greek only).
• Good starting points: • Aegina town – good bus connections all over the island • Agina Marina – nearer most walks and also has good bus connections • Piraeus – due to the excellent ferry connections there is no problem doing walks on Aegina with a base in Piraeus either
• How to get there: • Excellent ferry/hydrofoil connections from Piraeus' Great Harbour (expect one or two departures every hour)
• More info: • AEGINAGREECE – has timetables for the island buses • aegina island greece • aegina.net
---
This page was last modified at July 20, 2008.
©1997-2008 .